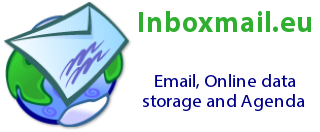 Inboxmail.eu
Email, Online data storage and Agenda
All the possibilities of a well know internet service but a more european touch in your email address. yourname@inboxmail.eu

Use the browser on your PC or laptop, or the special apps on your smartphone and tablet. All email, files, appointments, photos, documents and sheets always synchronized between devices. Unlimited online storage.

No advertisements.

Email address and all other services for EUR 120.00* per user per year.

By invitation only!
* Exclusive Tax, in EU countries sales tax is applicable.